Arnold Marshall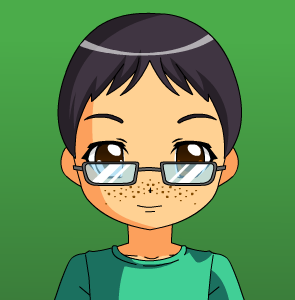 Character Info

Edit
Arnold Marshall is a junior currently attending Millard High. He is the oldest cousin and friend of Adriel Cull. His parents only enrolled him into Millard High not only as a favor to his aunt and uncle to watch him but so his parents can teach him the elements of high school. He's also been told that there are some attractive girls there which is sorta his weakness... and chocolate. But it's mostly girls that distract him. Arnold is also a character to the Genderbent RP .
Character Profile
Edit
Birthday: May 31
Ethnicity: Mexican
Body Type: Skinny
Height: 5'0"
Hair Color: Black
Eye Color: Brown
Skin Tone: Tan
Dominant Hand: Right
Favorites
Edit
Interests/Hobbies: Doing Experiments, Inventing, Being Shy
Favorite Color: Green and Blue
Favorite Musician/Band: Lady Gaga
Favorite Type of Music: Pop
Favorite Food: Chocolate
Report Card
Edit
English: C
Math: B
History: B
Biology: A
Computers: A
Gym: C
Astrology: A
Art: C
Music: C
Cooking: B
Drama: C+
Health: A+
Spanish: N/A
Relationships With Other Characters
Edit
Adriel Cull
Edit
Arnold is Adriel's cousin. He was his long lost cousin for awhile but Adriel's family came back to town in two years. They didn't have enough money to buy a home so Arnold's dad gave them one of their expensive apartments to live in. Arnold was enrolled to Millard High from his parents. He promised his aunt and uncle to keep an eye on Adriel while attending classes. Adriel currently doesn't know this but they are good friends since Adriel is very friendly.
Skye Skyler
Edit
--Under Construction--
Kurt Lupin
Edit
--Under Construction--
--Under Construction--
--Under Construction--