Chelsea Simmons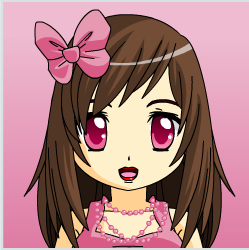 Character Info

Edit
Chelsea Simmons is a rich student. She doesn't boast around to people like Anita, and she shows sympathy and is kind of dumb, especially in Computers. She is kind of "stupid" and weird during conversations and brings up fictional stories out of the blue. She can easily fall in love with (in her opinion) a hot boy.
Character Profile
Edit
Birthday: 15th May
Ethnicity: American
Body Type: Unknown
Height: 5'7"
Hair Color: Brunette
Eye Color: Magenta (wear's contacts)
Skin Tone: Tan
Dominant Hand: Right
Favorites
Edit
Interests/Hobbies: Texting, talking, drawing, cooking, designing her own dresses and watching TV
Favorite Color: Pink
Favorite Musician/Band: Jennifer Lopez
Favorite Type of Music: Pop
Favorite Food: Pie
Favorite TV Show: N/A
Favorite Book: N/A
Favorite Movie: N/A
Report Card
Edit
English: D
Math: D+
History: C
Science: D
Computers: F
Gym: C
Art: A
Music: D
Cooking: A
Drama: N/A
Health: N/A
Relationships With Other Characters
Edit
Jennifer Simmons
Edit
Jennifer Simmons is Chelsea's older sister, but is shorter than her. Jennifer usually is corrected by Chelsea suprisigly and she usually helps Chelsea study. They both own 1 cat each which the cats despise each other.
Haleema Ahmed
Edit
Haleema Ahmed is Chelsea's friend who is 4 inches taller than her. Chelsea and Haleema met in elementary school and were friends since. The 4 (Anita, Jennifer, Haleema and Chelsea) usually hang out with each other most of the time.
Anita is Chelsea's friend who is slightly smarter than her. Anita, Haleema, Jennifer and Chelsea usually hang out with each other on weekends. Chelsea announced the "supposed" death of Anita during a cooking class.
Adele Ciramati
Edit
Adele and Chelsea tend to fight over Raphael. One of their fights involved paints and glues during Art class in Part 23. Adele and Chelsea argue over who Raphael loves more.