Cyrus Carmine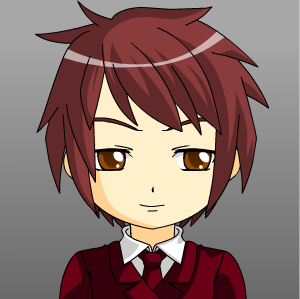 Character Info

Edit
Cyrus Carmine is a freshman student currently attending Millard High. He is described as being good looking as smart, as well as being deep and profound. He, like his identical twin brother Darius, is a very mischievous, cunning, and teasing young man who loves to see people squirm. He is best friends with Midna and cares for her a lot, and like Darius, has a huge crush on her. He and Darius are constantly "fighting over her." He and Darius have a knack for talking at the same time when they're around each other. His favorite subject is Math.
Character Profile
Edit
Birthday: March 7
Ethnicity: English, Irish, Greek, Austrian, Japanese, and Portuguese
Body Type: Kind of thin and lanky
Height: 5' 11"
Hair Color: Rosy auburn
Eye Color: Chocolate brown
Skin Tone: Fair
Dominant Hand: Left
Favorites
Edit
Interests/Hobbies: Reading, hanging out with friends, etc.
Favorite Color: Burgundy
Favorite Musician/Band: Bach, Relient K
Favorite Type of Music: Classical, Alternative Rock
Favorite Food: Beef Stew
Favorite TV Show: N/A
Favorite Book: N/A
Favorite Movie: N/A
Report Card
Edit
English: A
Math: A+
History: A
Science: A
Computers: B+
Gym: A-
Art: A+
Music: A
Cooking: A-
Drama: A+
Health: N/A
Other Appearances
Edit
Cyrus's parents are usually on business trips, and his older sister, Selene, is a model in New York.