Danny Boone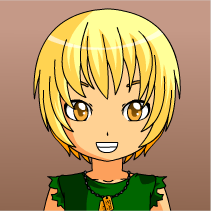 Character Info

Edit
  Danny is a charming country boy, not really all too bright but tons of fun to be around. He's a farmhand on his father's farm and a dead-eye shot. Was of course named after frontiersman Daniel Boone. Unlike his female counterpart, he's terrible at art.
Character Profile
Edit
Birthday: December 4th
Ethnicity: Quarter French, Quarter Puerto-Rican
Body Type: Fit
Height: 5'8"
Hair Color: Golden-Blonde
Eye Color: Brown
Skin Tone: Tan
Dominant Hand: Left
Favorites
Edit
Interests/Hobbies: Horseback Riding, Playing Sports
Favorite Color: Red
Favorite Musician/Band: Carrie Underwood
Favorite Type of Music: Country-Pop
Favorite Food: Turkey Sandwich
Favorite TV Show: N/A
Favorite Book: N/A
Favorite Movie: N/A
Report Card
Edit
English: B+
Math: B-
History: C+
Science: B-
Computers: D+
Gym: A-
Art: F-
Music: A+
Cooking: C+
Drama: A
Health: F
Other Appearances
Edit
Danny was held back a year for bad grades in three classes, since then, has managed to raise his grade (minorly) in two classes.