Drew Howard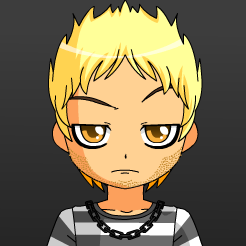 Character Info

Edit
Drew Howard is an orphaned teenage boy with a pessimistic attitude towards life who attends Millard High, but only in the New RP. He oddly likes to play with his shoe when he is bored. He is Jess's older brother and Sandy's older cousin. Drew also has a crush on Megan.
Character Profile
Edit
Birthday: June 21st
Ethnicity: German, Spanish
Body Type: Fit
Height: 6'0" (final height)
Hair Color: Dirty Blond
Eye Color: Amber
Skin Tone: Light Tan
Dominant Hand: Right
Favorites
Edit
Interests/Hobbies: Music, Playing Video Games, Watching TV, Camping
Favorite Color: Navy Blue
Favorite Musician/Band: ?
Favorite Type of Music: Any Kind of Rock, Rap
Favorite Food: Garlic Bread
Favorite TV Show: The Walking Dead, Talking Dead, Survivor
Favorite Book: The Walking Dead Graphic Novels
Favorite Movie: Jaws, Cowboys and Aliens, Jurassic Park
Report Card
Edit
English: C
Math: B
History: B
Science: B+
Computers: B-
Gym: A-
Art: C
Music: C+
Cooking: D
Drama: N/A
Health: N/A
Relationships With Other Characters
Edit
Jess Howard
Edit
Drew and Jess are siblings and, all they don't act like it, actually love each other. Drew, being the older brother, is always looking out for Jess because he doesn't want to lose her like he lost their parents. However, Drew just says it's because their #Bamey Howard|grandfather made him. Drew is also always getting tired of Jess's antics, especially her obsession with llamas and the whole their that he is gay (which he is not).
Sandy Howard
Edit
Mandy Howard
Edit
Megan Müller
Edit
Nathan Winter
Edit
Personal Quote
Edit
--Under Consturction--
Drew's favorite video game series is The Elder Scrolls. He likes CoD and Battlefield too, but doesn't play on Xbox Live on them anymore because of all of the "annoying" under aged that go on it.