Gino Delicioso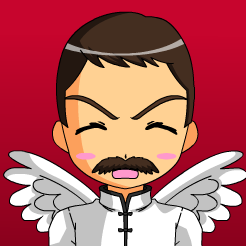 Note that a chunk of his head is gone.
Character Info

Edit
Gino Delicioso is a renowned master Italian chef. He has crossed the globe and spent a fortune in his search for special sauces, exotic spices and forbidden cheese. He now teaches Cooking at Millard High RP. He is very aggressive when it comes to cooking, and if the students make mistakes he often cusses them out in Italian or even goes to violent matters. For this reason, the principal has the nurse sneak medication into his coffee for him to be calmer.
His face turned into a pizza in Part 22 of the New RP  during Cooking but it turned back to normal in Part 23 during Science. However, he is still not completely back-to-normal since his skin began glowing (because of Susan Bones' potion), he grew angel wings (because of Zain Patel's potion), and some slices of his head have been eaten (because of Jess Howard's appetite) in search of a cure. See Pizza-Face Epidemic.
Due of these events, he was replaced by the new subsitute teacher, Ayaka Honda.  
Adult Profile
Edit
Birthday: N/A
Ethnicity: Italian
Body Type: Slightly Overweight
Height: N/A
Hair Color: Dark Brown
Eye Color: No one knows; his eyes are never open
Skin Tone: Tan
Dominant Hand: Right
Favorites
Edit
Interests/Hobbies: Eating, Cooking, reading/watching pornography, spending time with his wife
Favorite Color: Red
Favorite Musician/Band: N/A
Favorite Type of Music: Traditional Italian Music
Favorite Food: Pizza and Spaghetti
Favorite TV Show: Anything on Food Network
Favorite Book: Playboy Magazine
Favorite Movie: N/A
Sexual Orientation: Pansexual
Past Relationships: Chaz McFreely, some wheat, a tomato, Maria, Roxie Road
Current Relationship: Stephinia Delicioso (wife)
Alma Mater: N/A
Past Jobs: Ex-Restaurant Owner, Ex-Cooking Teacher
Relationships with Other Characters
Edit
Craig Speedster
Edit
Gino Delicioso is the teacher that really gets on Craig's nerves. He started doodling, one lesson, on one of the ovens, and then he was forced to spend the whole lesson clearing it up as well as the "work-station" around it. In previous lessons, Gino has been very critic of not only Craig's work, but everyone in the class' work. Gino also gets into a lot of fights with other kids, with Craig sees as bad morals for a teacher to have. So, he does not enjoy being in the company of Gino, since he's very hypocritical and extremely unfair.
Sandy Impertinent
Edit
In the beginning of the year, Sandy was working with her relatives to make the smoothie. Mandy decided that they should cheat and made them cheat, even though Sandy and Drew weren't too thrilled about that idea. Gino soon found out and gave their whole team a bad reputation and bad grades for his class. Sandy doesn't want to be considered a bad kid so she always does the best she can do and will do any extra credit when available for his class. However, Gino is oblivious to this and still thinks she's a bad kid.