Haleema Ahmed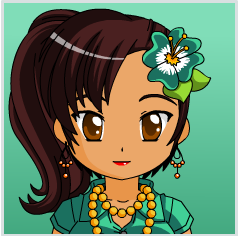 Character Info

Edit
| | |
| --- | --- |
| Side | Good |
| Age | 17 |
| Role | Student and Friend of Anita |
| Grade | 11th Grade |
| Friends | Jennifer Simmons, Chelsea Simmons, Zain, possibly Farah Ali |
| Enemies | Emette Smithe |
| Favorite Subject | Math, Art and Drama |
| Least-Favorite Subject | Science and Gym |
| Controlled by | |
Haleema Ahmed is a rich student. She doesn't boast around to people like Anita, and she shows maturity and hates many subjects even though she is good at them.
Character Profile
Edit
Birthday: 1st December
Ethnicity: 1/2 Indian, 1/2 South African
Body Type: Average
Height: 5'7.5"
Hair Color: Dark Brown
Eye Color: Dark Brown
Skin Tone: Tan
Dominant Hand: Right
Favorites
Edit
Interests/Hobbies: Drawing, writing music, praying.
Favorite Color: Pink and Aqua
Favorite Musician/Band: Akon, Various Indian Singers, Nancy Ajram and Haifa Wehbe
Favorite Type of Music: Arab, Bhangra
Favorite Food: Keema Samosas
Favorite TV Show: Victorious and Religious shows.
Favorite Book: Twilight Saga and Religious books.
Favorite Movie: Ra.One, Twilight Saga.
Report Card
Edit
English: D
Math: B
History: A
Science: C
Computers: A
Gym: C
Art: A+
Music: F
Cooking: C+
Drama: B
Health: C-
Relationships With Other Characters
Edit
Jennifer Simmons
Edit
Jennifer Simmons and Haleema Ahmed treat each other like they are sisters. Being the oldest of the group, she teaches Jennifer levels of maturity and how to be poised and sophisticated. After the death of Anita, Jennifer and Haleema hardly see each other.
Chelsea Simmons
Edit
Haleema Ahmed is Chelsea's friend who is 4 inches taller than her. Haleema is the smartest out of the 4 people and is rewarded for every C+ or higher. Chelsea and Haleema met in elementary school and were friends since. The 4 usually hang out with each other most of the time. After the death of Anita, Jennifer and Haleema hardly see each other and Haleema and Chelsea's friendship goes the wrong way.
Haleema is Anita's friend who richer than Haleema. Anita, Haleema, Jennifer and Chelsea usually hang out with each other on weekends. After the death of Anita, Jennifer and Haleema hardly see each other. Also, Haleema was somewhat quite happy upon hearing about Anita's death.
Haleema and Zain are good friends since kindergarten. Haleema seems to look out for Zain quite a lot and vice-versa.
Personal Quotes
Edit
Haleema: *hears Mercedes and throws a paper ball at her*
Chelsea: *quietly* Mercedes said nothing
Haleema: My mother is a fortune teller... She teaches me this stuff!
Part 17 when the new substitute teacher is in History