Kai McMarx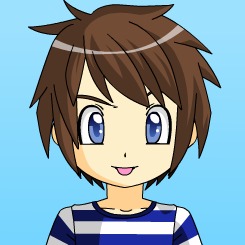 Character Info

Edit
| | |
| --- | --- |
| Side | Good |
| Age | 13 |
| Role | Student |
| Grade | 9th |
| Friends | Carmen McMarx |
| Enemies | None |
| Favorite Subject | Music |
| Least-Favorite Subject | History |
| Controlled by | Gemma1520 |
Kai McMarx is a Freshmen student at Millard High. Kai skipped a grade because hes fairly smart. He's creative and that's mainly the reason for his success in school. Kai is easily distracted and enjoys dancing. Kai would love to get on with everybody. He is a newcomer character in the New Millard High RP.
Character Profile
Edit
Birthday: September 18th
Ethnicity: None
Body Type: Fit
Height: 5'3
Hair Color: Brown
Eye Color: Blue
Skin Tone: Pale
Dominant Hand: Left
Favorites
Edit
Interests/Hobbies: Dancing and video gaming
Favorite Color: Dark Blue
Favorite Musician/Band: Rihanna
Favorite Type of Music: Pop and Rap
Favorite Food: Jawbreakers
Favorite TV Show: N/A
Favorite Book: N/A
Favorite Movie: N/A
Report Card
Edit
English: A
Math: C-
History: D
Science: B-
Computers: B+
Gym: B
Art: B
Music: A+
Cooking: D+
Drama: N/A
Health: N/A
Relationships With Other Characters
Edit
Carmen McMarx
Kai loves Carmen even though she has quite a lack of respect for him. He still finds her to be amusing and someone to look upto. He wouldnt trade his sister for anyone. However Carmen can push Kai over the limit as she knows everything there is too know and blackmail about him.
Other Appearances
Edit