Amanda Impertinent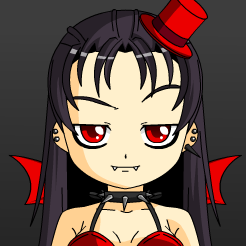 Character Info

Edit
Amanda "Mandy" Impertinent used to be a stuck-up, snobby girl in the New Millard High RP who liked really cheesy movies such as High School Musical 3. Then she was bitten by an experimental frog in science class and became a punk vampire. She transferred after she bit Emette at the prom in Part 8.
Character Profile
Edit
Birthday: November 4th
Ethnicity: African-American, German, Spanish
Body Type: Skinny
Height: 5'3"
Hair Color: Born with black hair, then dyed Hot Pink, then dyed her hair back to Black
Eye Color: Red (formerly Cyan)
Skin Tone: Pale (formerly Tan)
Dominant Hand: Right
Favorites
Edit
Interests/Hobbies: Hanging out with her boyfriend
Favorite Color: Red
Favorite Musician/Band: Nicki Minaj, BotDF
Favorite Type of Music: Pop, Elctronica
Favorite Food: Blood
Favorite TV Show: Doesn't care for television
Favorite Book: Doesn't care for literature
Favorite Movie: The High School Musical series (formerly)
Report Card
Edit
English: F
Math: F
History: F
Science: F
Computers: B-
Gym: B-
Art: F
Music: F
Cooking: F
Drama: F
Health: B-
Relationships With Other Characters
Edit
When Brian still attended Millard High, Mandy used to constantly try to get Brian's attention, mainly because she used to have a crush on him. For example, Mandy asked Brian if her painting (which had him and her kissing and Sandy being eaten by a shark in the background) was good in Art. He said it was good but he didn't look at it, so he didn't know that Mandy had a crush on him because he didn't see the paiting. Mandy is currently unaware that Brian was the one who stuffed her into her locker on the first day of school and probably never will find out... just like Brian will never find out that Mandy liked him because he goes to Bridgehollow High now. Now, Mandy is in a relationship with Erick. --UnderConstruction--
--UnderConstruction--
Mandy has trouble remembering the spelling of Erick's name and vice versa.