Nathan Winter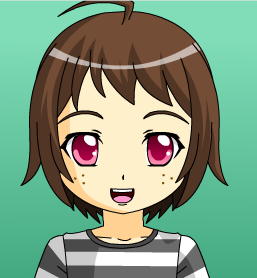 Character Info

Edit
| | |
| --- | --- |
| Side | Good |
| Age | 15 |
| Role | Student |
| Grade | 9th Grade |
| Friends | Jess |
| Enemies | Kat Lupin (One sided on his part. He's afraid of her) |
| Favorite Subject | Bioligy |
| Least-Favorite Subject | Math |
| Controlled by | Sarasue1 |
Nathan Winter is a freshman special ed student currently attending Millard High. He is has a slight form of autism. He likes space and sci-fi things and pickles. He is a the twin brother of another OC from an alternate RP Ibby Winter. Though not many things upset him so this rarely happens. He is very childish for his age and acts more like an elementary aged kid that a high school one. He is impulsive and can at times do things with out thinking. He has a crush on Jess. He is a newcomer character to the New Millard High RP.
Character Profile
Edit
Birthday: December 12
Ethnicity: ?
Body Type: Thin
Height: 5'2
Hair Color: Brown
Eye Color: Pink
Skin Tone: Pale
Dominant Hand: Left
Favorites
Edit
Interests/Hobbies: Video game, building rockets, eating pickles
Favorite Color: Grey
Favorite Musician/Band: Vocaloid
Favorite Type of Music: Random
Favorite Food: Pickles
Favorite TV Show: Star Trek, Macross Frontier
Favorite Book: Diary of a Wimpy kid
Favorite Movie: Star Wars
Report Card
Edit
English: C
Math: C
History: B
Science: A+
Computers: A
Gym: B
Art: F
Music: D
Cooking: F-
Drama: N/A
Health: N/A
Personal Quotes
Edit
"I want my cookie!"
" Ooooh what's in here?"
"My mom saved the world!"
Other Appearances
Edit