Yumi Bow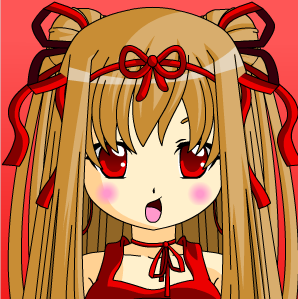 Character Info

Edit
| | |
| --- | --- |
| Side | Good |
| Age | 14 |
| Role | Student |
| Grade | 9th Grade |
| Friends | Shea Hammond |
| Enemies | N/A |
| Favorite Subject | Music |
| Least-Favorite Subject | Gym |
| Controlled by | Midnightblue05 |
Yumi Bow is a freshman student currently attending Millard High. She is a bubbly, cheery, bright girl who absolutely loves bows...and the color red. She may come off as a bit of an airhead, but she has a big heart and can't stand to see someone hurt. She's what you would call a "hopeless romantic" and likes as many boys as there are days in the year. Some are annoyed by her constant giggling and happy demeanor, but most find her enjoyable to be around.
Character Profile
Edit
Birthday: August 27
Ethnicity: French, Italian, Irish, Spanish, and Latin
Body Type: Petite
Height: 5' 2"
Hair Color: Sandy blond
Eye Color: Bright red
Skin Tone: Olive
Dominant Hand: Right
Favorites
Edit
Interests/Hobbies: Sewing, daydreaming, talking on the phone, etc.
Favorite Color: Red, pink, and yellow
Favorite Musician/Band: Taylor Swift
Favorite Type of Music: Country, old love songs
Favorite Food: Chocolate
Favorite TV Show: N/A
Favorite Book: N/A
Favorite Movie: N/A
Report Card
Edit
English: B+
Math: B
History: A-
Science: B
Computers: A
Gym: C
Art: A+
Music: A+
Cooking: A
Drama: A+
Health: N/A
Other Appearances
Edit
Yumi lives with her parents, her older brother, younger brother, and younger sister.